WELCOME
Tito Rad's Grill offers authentic Filipino dishes just like how grandma used to make it. The dishes ranges from the simple comfort food and all-time favorite Adobong Baboy to the delightful Kare Kare. All ingredients are carefully chosen, freshly cooked and prepared to satisfy your craving for "lutong bahay" (a taste of home).

For those having difficulty choosing, an absolutely must-try dish is the Inihaw na Panga (Grilled Tuna Jaw) or the Tuna Belly cooked anyway you want -- grilled, adobo, fried, in coconut milk or in a soup.

Tito Rad's is synonymous to good service, relaxed ambiance and great food. The perfect Filipino dining experience!
FOOD HISTORY
Lumpiang Shanghai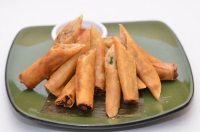 Lumpia/h are pastries of the Philippines and Indonesia of Chinese origin and are similar to spring rolls. The term lumpia derives from lunpia in the Hokkien language. The recipe, both fried and fresh versions, was brought by the Chinese immigrants from the Fujian province of China to Southeast Asia and became popular where they settled in the Philippines and Indonesia. In the Netherlands, it is spelled loempia which is the old Indonesian spelling for lumpia and has also become the generic name for "spring roll" in Dutch.

This type of lumpia is filled with ground pork, minced onion, carrots, and spices with the mixture held together by beaten egg. It may sometimes contain green peas. Both lumpiang shanghai and the sweet and sour sauce are served with attests to the Chinese influence. This variety is by standard an inch in diameter and approximately 4-6 inches in length. However, most restaurants and street vendors often serve lumpia shanghai in smaller diameters, typically one-half to three-quarter inches, and is served with a spicy sauce instead of a sweet and sour sauce.
CONTACT US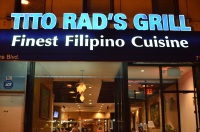 49-10 Queens Boulevard
Woodside, NY 11377

Tel. (718) 205-7299
or (718) 205-7295
Fax. (718) 205-4178
Email TitoRads@yahoo.com

Business Hours:
Open 7 days a week
Mon - Fri 11-8
Sat - Sun 10-8

Handicap Accessible





Copyright © Tito Rad's Grill. All rights reserved. | Powered by: WebComplete.com | websvr052